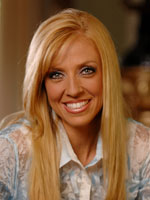 Terri Savelle Foy, daughter of Jerry Savelle, is the Senior Vice President of Jerry Savelle Ministries International (JSMI). She graduated cum laude from Texas Tech University with a degree in French and a minor in Communications.
Terri is stated as the "visionary" behind JSMI. She has a creative spirit and is sensitive to the Holy Spirit. These and other qualities enable her to lead and infiltrate all the Departments of JSMI with new ideas and new strategies. Her illustrative style and marketing knowledge are helping ministry leaders all over the world find their God-given identity and use their uniqueness to reach their target.
Terri is passionate about sharing God's mercy and love to anyone and everyone. Her desire is to help people discover their value and ignite vision in their hearts. Through personal experience and proven results, Terri is teaching people to be free from issues rooted in fear such as rejection, insecurity, passivity, low self-esteem, shame and guilt. Terri reveals practical tips on how to fight fear with a plan...a plan to develop vision, confidence and the discipline that will lead to God's perfect plan.
Alongside her Dad, Terri is a featured host each week on the JSMI television broadcast which brings knowledge of the "how-to" approach to the everyday person.
For more information about Terri and her ministry, please visit www.terri.com.