Africa missions outreach video update. Thank you partners and friends!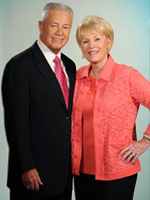 Even before Jerry accepted the call of God on his life, God had told his wife, Carolyn, that he would be a minister and preach the Gospel in the continent of Africa. Nine years after surrendering his life to God, Jerry first stepped foot on African soil; birthing a vision on the inside of him to impact Africa with the Word of God and bring hope to those in need.
What you do right now will make a difference. Because of your financial support of Jerry Savelle Ministries, you are touching people around the world. You are making a difference in the lives of real people struggling to survive in Africa. Thank you friends and partners for being a part of sharing God's love, compassion, and truth to those in need.
Do you know that you receive credit for every child that is loved and every adult that is helped because of your financial support? Your gifts to JSMI change lives.
$1700 can provide 1 public water well for an entire village
$555 can feed 100 people for 2 months.
$120 can pay for a pastor to receive the entire Bible School utilizing the new eBook/MP3 technology.
$100 can provide 10 backpacks filled with school supplies.






MASS DISCIPLESHIP: In addition to the humanitarian work of distributing food, clothing, school supplies, orphanage support and many other outreaches, crusades are conducted annually where as many as 7,000 people have run to the altar to meet Jesus in just one week.
We know in order to promote lasting change in individual lives and affect an entire nation, local pastors must be trained and given the tools needed to reach their country.
The Jerry Savelle Bible School began training Pastors in 2007 with a class of 29 and we now have over 300 actively enrolled with a new class starting every 18 months. Each pastor influences hundreds of people in their local village and has the potential to impact their entire nation.
Jerry Savelle Bible School is being used to fulfill one of Jerry's greatest desires: to disciple the Body of Christ. In 2008, God spoke a new phrase to Jerry he had never heard before – MASS DISCIPLESHIP. Like mass evangelism that has taken place out in the mission fields of the world, this Bible School is now being used for mass discipleship all over the world.
Because of the poor physical conditions of in much of Africa, these pastors have no financial means to cover the cost of the school. We cover the cost of translating the courses and giving the pastors the audio messages, the study guides, and the electronic device enabling them to take the course. (We are currently finalizing the details for offering the entire school on an eBook/MP3 player. This will allow us to train more pastors, more quickly and with less expense.) The rich Word of Faith courses taught by Dr. Savelle, along with annual pastor seminars are fulfilling the vision that God placed in Dr. Savelle's heart for Africa in 1973.
All of this is possible because of you, faithful partners and friends. Thank you for your continued support.
CHILDRENS' EDUCATION: When you look at any impoverished country, sadly, it is the children who suffer the most. Knowing this, JSMI's International Director, Joe McCroskey, inquired about the needs of orphans and poor children and discovered that in order for them to be allowed to attend school, the children must provide their own school uniforms, specific shoes, backpacks and school supplies. We initiated an on-going project to supply backpacks filled with the necessary school supplies, ministry books, and treats for the children. This outreach enables children to receive an education who would otherwise be unable to attend school at all.
By putting education together with the Gospel, we know that the lives of these children will truly be impacted and changed. Without the school supplies in these backpacks, the children would be turned away and not allowed to attend class. This outreach enables children to receive an education and bring hope to their entire family. In addition to the needed school supplies, these children also received candy, toys, hugs, and most importantly, the truth about how much Jesus loves and values them.
FEEDING PROGRAM: One African missionary explained that to reach hungry people, you must feed them. So we are doing just that! We are feeding them spirit, soul and body. Many of the families we provide food for live in drought stricken areas. Each family is given enough food to last about 2 months, consisting of corn, beans, rice, oil, salt, and tea.
Jerry Savelle Ministries also supports six orphanages filled with children that have been abandoned or are there due to the death of their parents. Because of the financial support of partners and friends, we are able to provide three meals every day to each child in these orphanages.
WATER WELLS: The Lord placed it on our hearts to get involved in building water wells for remote villages. The purpose is to help stop water-borne diseases that are prevalent in third world countries. When we can provide purified water, we provide a huge preventative measure against common diseases. It is our on-going goal to build public water wells in key villages in Tanzania bringing fresh, clean water to thousands of families.
THE HISTORY:
The 2000's:
In 2005 God directed us to focus our Africa Missions through our missions headquarters in Arusha, Tanzania. At our headquarters is a thriving Heritage of Faith Christian Center church where people are taught life changing messages every week and it is the epicenter for all of our humanitarian outreaches in Africa.
The 1990's:
We founded churches in Kenya, Tanzania and South Africa. We developed Bible Schools to train leaders and Pastors in a strong foundation of the Word and also offered Pastors' Training in Kenya, South Africa, Tanzania and Zimbabwe.
The 1980's:
JSMI began its work preaching in the villages and the bush, and baptizing multitudes in the lakes. We launched a missions campaign: To Kenya With Love, and built 48 churches training close to 6,000 people each week. We provided food, water, clothing and blankets to refugees from the war-torn nations of Somalia, Uganda and Rwanda. We joined ORU in sponsoring a medical clinic where over 28,000 patients were treated each year and heard the Gospel of Jesus! We continued plowing away and pioneering works all over Africa.
The 1970's:
Jerry Savelle first stepped foot on African soil in 1978. Where he began teaching the uncompromising Word of God.