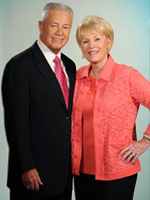 In 1969, I was introduced to the God who is a Master at making champions out of failures. He changed me from the inside out. He turned my failure into success, my lack into prosperity, and established this ministry to touch the world with the love of Jesus. Please pray about joining our team as we fulfill God's plans and purposes around the globe! I personally invite you to partner with our ministry. One of the greatest compliments I ever receive is when someone comes up and says, "Jerry, I'm your partner." That is such a blessing to me. There is no way we can fulfill all that God has planned for us without partners. The vision God has given us is simply too big to accomplish on my own. It will take all of us together to accomplish this God-honoring vision.
OUR MISSION:
Motivate: people to develop a "no quit" faith and to walk in the favor of God.
Evangelize: this world by attracting the lost to a loving, faithful God.
Disciple: believers in the Word so they can lead others into an uncompromising relationship with Jesus Christ.
Reach Out: to hurting humanity with provision for spirit, soul, and body.
When you PARTNER with Jerry Savelle Ministries,
YOU ARE
• Preaching the Good News
• Teaching people to be winners through Jesus
• Training pastors and leaders around the world
• Feeding thousands in famine stricken lands
• Supporting widows and orphans as Jesus commanded
YOU RECEIVE
• Free subscription to AIF magazine
• Personal monthly letter
• Personal prayer support
Jerry Savelle Ministries Outreaches
• Inspiring and motivational resources
• Chariots of Light Christian Bikers
• Africa Famine Relief
• Tanzania Pastoral Training
• Television Broadcasts
PARTNERSHIP
"When you partner with this ministry…the same anointing, wisdom, blessing, and favor on my life will come on you." (Phil. 4:15)
Click below to become A New Partner:

If you are already a partner or if you would like to give a love gift Click Here.
Your commitment to partnership is a blessing!