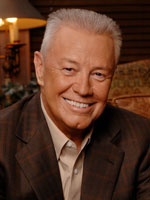 This month as you give, I've asked my team to send you my recent powerful message, How Do You Respond To A Crisis. The truths in this special teaching resource are an absolute must during these times. Click here now ⟩
---
How are you responding to adversity today? I heard someone say that adversity is a pivotal moment in our lives that calls for some kind of response.
So many people are facing adversity right now. Between lockdowns, economic downturns, health struggles, and disrupted schedules, everyone must choose how they will respond during these times of crisis that we are all facing.
Everyone responds to adversity either positively or negatively. Sadly, many Christians respond negatively. I don't want that to be the case for you!
The wisdom from Proverbs reveals, "If you faint in the day of adversity, Your strength is small" (Proverbs 24:10 NKJV). The 1828 Webster's Dictionary defines adversity or crisis as an event or series of events which oppose success. It's also defined as that which causes misfortune, calamity, affliction, distress, or a state of unhappiness.
Well, I think you would agree that what we are presently experiencing with the coronavirus pandemic would certainly fit these definitions.
Those definitions however are not God's plan for your life. Jesus said that you have an adversary that has come to steal, kill, and destroy but Jesus is here to give you an abundant, overflowing life (see John 10:10).
I want you to look at Proverbs 24:10 again. It states, "If you faint in the day of adversity, Your strength is small." This means your ability to outlast adversity is directly related to your strength.
How can you build your strength? How can you prevent your strength from being diminished, deficient, or inferior?
Where does the Bible say your "strength" comes from? Nehemiah 8:10 gives us insight saying, "…for the joy of the Lord is your strength." Just stop and look around at the number of Christians that you know who have no joy or very little joy during this time. You could say that they have allowed this crisis to steal their joy.
The truth is, if you have no joy, then you also have no strength! And if you don't have the strength to resist, then it's not likely that you'll overcome the adversity.
You must not allow your adversary to steal your joy – that's what he's after!
You might be thinking, "But how can I maintain my joy in the midst of all this trouble that we're experiencing?" The psalmist David declared, "…in thy presence is fullness of joy" (Psalm 16:11 KJV). Where? In His Presence.
Ask yourself right now, "How much time am I truly spending in the presence of God?"
So many Christians are spending more time in front of the television, or staring at their phones, focusing on all the negative things that are happening around us than they are in His presence.
And in case you haven't heard, faith doesn't come by watching the news. In fact, worry, fear, and dread is what comes when you fill your mind and heart with the negative voices of this world.
If you are going to strengthen your faith and overcome adversity, you're going to have to shut off the world and step closer to God. James tells us, "Draw nigh to God, and he will draw nigh to you" (James 4:8 KJV).
It's really not that hard to get into His presence, you just have to make a quality decision to do it. And no one else can make that decision for you!
In God's presence, you will be revived and empowered! Acts 3:19 in the Amplified says, "Times of refreshing, of recovering from the effects of heat (fiery trials), of reviving with fresh air may come from the presence of the Lord."
That's what you need right now, but it only comes from being in the presence of the Lord.
Don't let times of adversity rob you of your joy and diminish your strength. Now, if you think that you have trouble, let me tell you about a person in the Bible who can really tell you "a thing or two" about trouble.
The Prophet Habakkuk described his circumstances saying, "Even though the fig trees have no blossoms, and there are no grapes on the vines; even though the olive crop fails, and the fields lie empty and barren; even though the flocks die in the fields, and the cattle barns are empty" (Habakkuk 3:17 NLT).
That's some major trouble! Nothing was working, everything looked hopeless. But listen to how he responded to all of this, "Yet I will rejoice in the Lord! I will be joyful in the God of my salvation!" (Habakkuk 3:18 NLT)
If anybody should have had no joy and no strength, it should have been this man, but he refused to allow any of his adversity to rob him of his joy. And if he could do this, then so can you!
I want you to look at Proverbs 24:10 again, but this time let's read it in the Message translation. It may sting a little, but it says, "If you fall to pieces in a crisis, there wasn't much to you in the first place."
Ouch!
Well, now that you're "stinging", I might as well give you this verse too, "You know that under pressure (during tests and trials) your faith-life is forced out into the open and shows its true colors" (James 1:2-3 Message).
What are these verses saying? They're saying adversity has a way of revealing what is really on the inside of you. I want you to know that you are in charge of what is in you! But you must spend time filling yourself with God's Word and being in His presence. I admonish you to stay in faith, don't let Satan steal your joy, and by all means, get in God's presence and refuse to quit.
If you'll make this decision and stick with it, then God will not allow you to fail!
Also, you are not facing these times of adversity alone. I'm so grateful that God has linked us together and that you allow me to speak faith and hope into your life. Just think of me like a coach in your corner teaching you how to win!
Thank you for believing in this ministry and responding in faith with your consistent giving. Your faithfulness during these times has been so encouraging and has allowed us to reach more people and inspire hope when it's needed most.
Please know that I don't take the adversity you're facing lightly. I know many people are suffering. That is why this message is so vital. You need hope. You need encouragement. You need to remain strong. And I'm here to help you do just that!
This month as you give, I've asked my team to send you my recent powerful message, How Do You Respond To A Crisis. The truths in this special teaching resource are an absolute must during these times.
To give online click the donate button below and you'll receive an immediate link to download this month's teaching resource on MP3, God is Your Ultimate Source of Supply. You can also give by calling 1-866-576-4872, or by texting "GIVE" to 817-835-9625.
Before I close this letter, I want you to know that your future is bright and it is secure!
The apostle Paul declares, "There has never been the slightest doubt in my mind that the God who started this great work in you would keep at it and bring it to a flourishing finish" (Philippians 1:6 Message).
That's my prayer for you! The best is yet to come.
In Him,


Jerry Savelle
P.S. Spend some time today being in God's presence. Let Him fill you with joy, strength, and faith. With God on your side, there is nothing you can't overcome! In Christ, you are more than a conqueror. I'm praying for you and hope to hear from you soon.