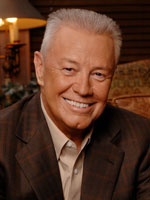 This month as you give, I will send you my complete message on Days of Glory, Days of Flourishing and Days of Abounding. I go in-depth regarding praise and thanksgiving that will bring the breakthroughs. Click here to give>
---
It's time – high time – to break forth in joy and praise the God Who is still the God of the Breakthrough!
Just recently, the Lord told me to keep preaching and teaching that the faithful shall prosper and it will be DAYS OF GLORY, DAYS OF FLOURISHING AND DAYS OF ABOUNDING in 2018. God's glory is His manifested presence, manifested power and manifested goodness!
Few Christians realize that God has always been deeply committed to bringing goodness, joy, happiness, prosperity and health to His people. God's love language is giving!
According to the Word there are two reasons Jesus came into the Earth: the first was out of love "… for God so loved the world…" John 3:16 and "In this was manifested the love of God toward us, because that God sent his only begotten Son…" 1 John 4:9. Look at this out of the Amplified from Ephesians 2:4-5, "But God…in order to satisfy the great and wonderful and intense love with which He loved us…made us alive together in fellowship and in union with Christ…" Did you catch that phrase: "…in order to satisfy the great and wonderful and intense love with which He loved us…" Praise God!
The second reason Jesus came is found in 1 John: 3:8 "…for this purpose the Son of God was manifested, that he might destroy the works of the devil…" Praise the Lord! This kind of love doesn't stand around forever and watch while a spiritual outlaw named Satan runs over His children, attempting to keep them bound, limited, and restricted so they can't live the way He desires them to live.
Real love doesn't do that. I wouldn't do that with my own children. Would you? No, I would do everything in my power to set them free from someone like this. And that's exactly what God did; He sent His own Son in order to release us from this tyrant. We were created to enjoy His goodness, not His wrath, His goodness.
In Psalm 21:3, David refers to God's goodness as a blessing! So plant this deep down in your spirit that God's goodness is a blessing that He wants us to enjoy. In this same Psalm, David shows us that God's goodness precedes or goes before us. The New International Version says "You came to greet him with rich blessings" and The New Living Translation says "You welcomed him with success and prosperity." Apparently the blessing of goodness includes prosperity and success.
In Exodus 18:9 Jethro, the father-in-law of Moses "…rejoiced for all the goodness which the LORD had done to Israel." So rejoice for all the goodness of God in your life! His goodness is manifesting itself in Carolyn's and my life every day and we are rejoicing every day.
God's people are not rejoicing enough! God likes thanksgiving and rejoicing. Think about this: some may not be experiencing His goodness because they simply don't express enough thanksgiving and praise.
David said in Psalm 31:19, "Oh how great is thy goodness which thou hast laid up for them that fear thee." God has goodness "stored up" for those who reverence and respect Him. This also implies we haven't seen all of the goodness of God that He has planned for us. No wonder the psalmist proclaims in Psalm 107:3, "Oh that men would praise the LORD for his goodness…"
Apparently praising God for His goodness is so important that the Psalmist repeats this principle in verses 15, 21, and 31 in the same psalm. When we see this principle four times in the chapter, God is trying to get our attention. Praise and worship are monumental to the greater breakthroughs. Did you know that praise and thanksgiving are some of the greatest expressions of faith?
I had a supernatural visitation in November 1992 and one of the things that the Lord spoke to me during that visitation was this, "The depth of your praise determines the magnitude of your breakthrough." Partners, we should be praising Him the moment we experience His goodness and in anticipation of seeing His goodness!
Keep God's goodness in your memory and keep believing to see the goodness of God – this is vital to seeing it again! David said in Psalm 145:7, "They shall abundantly utter the memory of thy great goodness…" This was the reason He was able to slay Goliath because he remembered the lion and the bear that God had delivered into his hand. In Psalm 27:13 David says, "I had fainted unless I believed to see the goodness of the LORD in the land of the living." He was believing to see it manifest in his life again just like he had seen it in times pasts. David was praising and thanking God in anticipation for what He was going to do in his life! This is a key to experiencing God's greater glory.
Psalm 22:3 tells us that God inhabits our praises which means He literally dwells and abides in our praise. Or you could say God shows up in the midst of our praise; and where He is, His glory is and where His glory is, His goodness and power will be manifested. And the enemy will be stopped in his attack! His goodness always shows up where He is celebrated! Praise brings the power of God to work in our lives. When the power comes things change, even things that seem impossible. Praise brought the walls down in Jericho and it will bring down every wall in your life as well.
Do you want to see more of the glory of God in your life in 2018? Then I encourage you to spend more time praising and thanking Him. God has given us these tools that will cause His Power, His Goodness and His Glory to manifest in our lives.
This month as you give, I will send you my complete message on Days of Glory, Days of Flourishing and Days of Abounding. I go in-depth regarding praise and thanksgiving that will bring the breakthroughs.
Sow your best seed today!
Praise and thanksgiving is one of the greatest joys you will ever know…and it also opens your life to more of God's blessing.
If you will commit to developing these characteristics in your life, you will step into the abounding life Jesus came to offer you!
Praying for you to flourish this year.
              In Him,
Jerry Savelle
P.S. Remember to rejoice for all the goodness that God has done in your life and in anticipation of what He is going to do for you in this coming year.