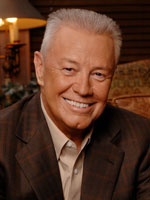 This month when you give, I'll have my team send you this powerful teaching resource, Vital Keys to Experiencing Supernatural Increase. Click here to give>
---
Happy New Year to you and your family. My wife Carolyn and I, and the entire JSMI staff, are praying for you. We believe God is about to move as never before!
This is the year for you to step into a new revelation and manifestation of supernatural increase. I'm believing that 2020 will be like no other year for you and your family. Not just financially, but in every area of your life.
God spoke a prophetic word to me saying, "In 2020, I will open a new door, and you will experience supernatural increase beyond anything you have experienced before."
I want to encourage you to catch a vision of supernatural increase that far exceeds your previous experiences.
Supernatural increase means that God is going to do something that is impossible for you to do in the natural. God doesn't want you depending on your own strength, ability, education, or skills. He wants to do far beyond what you are capable of in the natural.
Thank God, the results in my life are not dependent on my own natural abilities! Everything I have in my life is because of Jesus Christ. Without God, I would still be broke, miserable, and wasting my life. But, thank God, I'm not without Him! God has totally transformed my life, and through Christ all the blessings of Abraham are mine.
Don't talk yourself out of increase based on your natural ability. God is no respecter of persons; the same grace and favor that's on me is available to you.
Is it God's will for you to experience increase? Psalms 115:12-15 (NKJV) reveals, "The Lord has been mindful of us; He will bless us… May the Lord give you increase more and more, you and your children. May you be blessed by the Lord."
Blessed means to be empowered to prosper, increase, multiply, excel, and rise above what keeps others down. That blessing is on you. You should fully expect to prosper, increase, multiply, and rise above!
God has more in store for you! Your best days are ahead. Your greatest increase is still to come. In fact, He's the God of increase.
God wants you to experience more and more supernatural increase in every area of your life. He is moving in 2020 to do exceedingly more than you have seen before. The prophetic word He gave me said, "In 2020 I will open a new door."
I've seen God do amazing, impossible things over the past 50 years. He has shown up when it seemed all hope was lost. He has moved the hearts of officials, changed rules, and displayed His favor on my behalf. But once again, the best is yet to come!
This year God is thinking of new ways to bring supernatural increase!
When I first started learning the spiritual principles of supernatural increase, God revealed to me keys to experiencing it in my life. Even though this has been God's plan from the beginning, it doesn't happen automatically.
You have a part to play in receiving it!
I discovered two vital keys in the Book of Job that have positioned me for increase time and time again. These same principles will work in your life also!
Job chapter thirty-six reveals, "If they obey and serve him, they shall spend their days in prosperity and their years in pleasures" (Job 36:11). When you are faithful to serve and to obey God, it opens the door to miraculous manifestations of His greatness.
Obeying and serving God faithfully are the vital keys to experiencing supernatural increase.
There are some preachers telling us that faithfully serving God and faithfully obeying God is not necessary today because that's under the law and we are under grace. They say that obeying and serving is being "performance based."
While it's true we must never take our eyes off of the finished work of Jesus, there is much in the New Testament about the need for us to obey and serve God. Peter and the other apostles said in Acts 5:29, "We ought to obey God rather than men."
Not only that, even the apostle Paul, to whom God revealed the revelation of grace, says in Acts 26:19, "…I was not disobedient unto the heavenly vision." He also asks the believers in Galatia, "Who has bewitched you that you should not obey the truth?" (Galatians 3:1)
Jesus' own brother James tells us, "Be doers of the word and not hearers only…" (James 1:22).
When you commit to obey and serve, it's important to remember that you are not obeying and serving God in an attempt to get Him to love you more. You're serving and obeying Him simply out of your love and respect for Him!
You choose to obey God regardless of the outcome. If He then chooses to bless you and cause you to increase that's His business!
I made the decision 50 years ago when I first surrendered my life to Him that I would love Him, serve Him, and obey Him even if my life never got any better. But I have discovered, for God to never bless me or for my life to never get any better, would be a violation of His Word!
Will you take Mary's advice that she told Jesus' disciples at the wedding in Cana, "Whatever He says to you, do it" (John 2:5)? I like to say it this way, "Do it quickly and quietly!" In other words, do it without reservation, without hesitation, without murmuring, and without the need to negotiate. Just simply obey!
Being faithful to obey and serve is a sign of being fully and completely surrendered to God!
When you learn to obey quickly and quietly, this is when you position yourself for supernatural increase like you've never seen before.
The Lord told me, "In 2020, I will open new door, and you will experience supernatural increase beyond anything you have experienced before."
I want to encourage you to link your faith with mine and believe this prophetic word. God wants to bring greater increase into your life. Just like it says in Job 8:7, "Your beginnings will seem humble, so prosperous will your future be."
I want you to have my recent message where I go more in depth about this prophetic word. This month when you give, I'll have my team send you this powerful teaching resource, Vital Keys to Experiencing Supernatural Increase. This exciting message is packed with Scriptures and personal examples of how you can walk in supernatural increase.
To give securely online, simply visit jerrysavelle.org and you'll receive an instant download link to this message. You can also give by calling toll-free 1-866-576-4872 or by texting "GIVE" to 817-835-9625. If you prefer, you can use the enclosed reply sheet and postage-paid envelope and request the message on CD.
Thank you for your support and for believing in this ministry. Because of you we're able to share the uncompromised word of God and see people become the winners God created them to be.
I expect to hear from you soon about how God is blessing and increasing you!
In Him,
Jerry Savelle
P.S. This is a new year for God to do new things. After all, He's famous for great and unexpected acts, there's no end to His surprises (Job 5:8-9 MSG). Listen for His voice and be quick to obey. As you do, He will lead you to a place of supernatural increase.