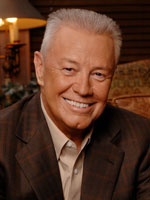 I recently preached this prophetic word for the first time and want you to hear it. That's why I've instructed my team to send this audio teaching, The Year of the Open Hand of God, as my thank you for your gift this month. Click here now ⟩
---
Happy New Year! I thank God that His mercies are new every morning. How about you? As you start this new year, I pray that you're free from the past and full of faith for the future.
If you've faced some difficult times, let me say to you today, "God gives a hand to those who are down, gives a fresh start to those ready to quit"
God loves giving His own a fresh start. He also loves to reverse things in your favor. When you're down, He raises you back up. That's because He wants you to always be victorious.
Are you ready to see what God has planned for you this year?
Each year the Lord gives me prophetic insight into His plan for the Body of Christ for the new year. As we start this new year, I encourage you to link your faith with this prophetic message and pursue it.
God has revealed to me the prophetic word for this year will set you on a path of provision, purpose, and prosperity. But, it's going to require perseverance.
The Spirit of God revealed to me that 2022 will be the year of the open hand of God. He went on to say, "In the midst of more and more chaos and disorder, God will open His hand and freely give to those who refuse to be shaken by it."
Notice this is in the midst of chaos and disorder. That means there are troubles and hardships that will arise in 2022. This will cause the world to be unstable, but God has different plans for you! While others are saying, "Worst of times, worst of times", if you stay in faith, you'll be saying, "Best of times, best of times."
The Psalmist declared, "The Lord always keeps his promises; he is gracious in all he does. The Lord helps the fallen and lifts those bent beneath their loads. The eyes of all look to you in hope; you give them their food as they need it. When you open your hand, you satisfy the hunger and thirst of every living thing" (Psalm 145:13-16 NLT).
When God opens His hand, it's always about provision for His people. When God opens His hand, all your needs are met and you're satisfied.
God is a provider of good things. He desires to give good things to you.
This is why the Psalmist says, "O Lord, how manifold are your works! In wisdom have you made them all; the earth is full of your creatures… These all look to you, to give them their food in due season. When you give it to them, they gather it up; when you open your hand, they are filled with good things" (Psalm 104:24-28 ESV).
The Psalmist here is talking about how God provides for all of His creations both in the sea and on the land. These animals cannot invent anything for themselves, but nonetheless, it comes prepared for them direct from the hand of God. They're wholly dependent on Him – they only have to gather it up.
In the Literal Hebrew, the phrase "they are filled with good" is "they are satiated with good". This means "supplied to satisfaction" or, you could say, "well taken care of."
If God will provide good things for the creatures of sea and land, how much more will He provide for you?
Do you remember Jesus making some very similar statements in the Gospel of Matthew?
Jesus said, "Look at the birds of the air; they do not sow or reap or store away in barns, and yet your heavenly Father feeds them. Are you not much more valuable than they" (Matthew 6:26 NIV)?
In other words, if He opens His hand to take care of the birds, then how much more will He provide for you and me?
He will satisfy you with everything you need. And not just in the good times but also right in the middle of chaos and disorder.
Regardless of the hardships and troubles around you, God will cause you to win. Defeat and failure are never His will for your life - no matter what's happening in the world around you.
Paul said it this way, "Now thanks be unto God, which always causeth us to triumph in Christ…" (2 Corinthians 2:14). This is what happens when God opens His hand.
If you haven't already done so, make the decision to look to God as your Source. He's the One with the answer to every challenge that you'll ever experience. The Psalmist exclaimed, "I have been young, and now am old, yet I have not seen the righteous forsaken or his children begging for bread" (Psalm 37:25 ESV).
Begin declaring 2022 is the year of God's open hand. Refuse to be shaken by the chaos and disorder in the world. Stay steadfast in your faith. Persevere and expect to see God's open hand of provision in your life!
One of the greatest keys to receiving prophetic words in my life has been sowing financial seed toward it. Start this year by sowing in faith. Don't hear this prophetic message and just set this letter aside.
Ask God how you can best respond in faith. Pray about sowing a seed believing for an "open hand harvest" in 2022.
There's so much more God has shown me about His open hand in the midst of chaos and disorder. I recently preached this prophetic word for the first time and want you to hear it. That's why I've instructed my team to send this audio teaching, The Year of the Open Hand of God, as my thank you for your gift this month.
To give online click the donate button below and you'll receive an immediate link to download this month's teaching resource on MP3, The Year of the Open Hand of God. You can also give by calling 1-866-576-4872, or by texting "GIVE" to 817-835-9625.
Your support and faithful generosity is such an encouragement to me and enables this ministry to make an impact for Jesus around the world. Because of you, people are being set free from the lies and bondage of Satan and stepping into the life of victory Jesus paid for them to experience.
Don't ever forget that your Heavenly Father has an abundant supply and He desires to share it with you. Begin thanking Him now that even in the midst of chaos and disorder He will open His hand and He will sustain you.
He will provide for you, and He will not allow you to fail! I'm praying for you this new year and looking forward to hearing from you soon.
In Him,


Jerry Savelle
P.S. Let me remind you, the open hand of God represents, or is symbolic of, provision – it's also symbolic of God's great generosity. I'm believing to see God's generous power active in your life this year. In the midst of more and more chaos and disorder, God will open His hand and freely give to those who refuse to be shaken by it.