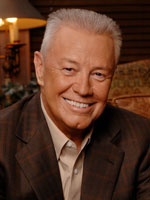 I recently preached a powerful message titled, Don't Panic, Keep on Believing. In this message, I go into detail about how fear and panic is a trap to keep you from God's best and how your faith can produce great victories. As you give this month, I've asked my team to send you this needed teaching message as my thank you for your support. Click here now ⟩
---
The faith that has delivered you in the past is the same faith that will bring you victory today. Even in the middle of all the distractions and disruptions from COVID-19, faith still works, God's promises are still true, and God's goodness is still being poured out!
I want you to know that I'm standing in faith with you this month and believing to see God's supernatural power manifest in your life. In fact, the Lord gave me this word for you:
Stay free from fear, and it'll still be a good year
You'll see you can always depend on me
I haven't changed and neither have my plans
So trust in me and continue to stand
It's going to turn out better than you think
Keep on rejoicing, and again I say, keep on rejoicing
I've been living by faith for over 50 years, and I'm not looking for anything new. Trusting God's Word has changed impossible situations for me time and time again. God has never let me down…and He's not about to let you down either!
I've found that many people will stand in faith…until things look really impossible. That's when the pressure is on to quit. That's also the most critical time to stay in faith.
During these uncertain days, don't panic. Keep trusting God and expect His promises to come to pass.
In the fifth chapter of Mark, we read the eye-witness account of a local leader named Jairus coming to Jesus for help. This man's daughter was sick and at the point of death. He asked Jesus to come to his home and heal his daughter.
On the way to Jairus's home, Jesus was approached by another woman who touched His clothes and received her healing. This encounter caused Jesus to stop and speak to the woman.
While Jesus was speaking to the woman, a messenger from Jairus's house arrived and said that it's too late, his daughter was dead and there was no reason to bother Jesus any longer.
This would be the moment where most people would give up and quit believing. But Jesus's response at that moment to Jairus is the same response He would give to you in an impossible situation.
Jesus answered saying, "Don't yield to fear. All you need to do is to keep on believing" (Mark 5:36 TPT). The Message translation says, "Don't listen to them, just trust me."
With everything that is happening around you right now, it would be easy to give ear to the doubt and negative voices and open yourself up to fear. It makes no difference what the circumstances might be, Jesus would answer you the same way…DON'T PANIC, KEEP ON BELIEVING!
I've found that worry and fear are what attracts Satan. And we certainly don't want that to happen. Don't give Satan one inch. If he can't get you to fear, he can't win.
The Bible illustrates this principle by showing us what happened to Job when he opened the door to fear in his life. He said in Job 1:25, "For the thing which I greatly feared is come upon me and that which I was afraid of is come unto me."
Don't ever forget this: Fear activates Satan just like faith activates God. Faith is the substance of things hoped for, and fear is the substance of things dreaded.
One of the definitions of panic is an overwhelming feeling of fear over an anticipated event. What are you anticipating? Things getting worse? And if they do, are you expecting and anticipating that happening to you?
In one of the direst situations, the apostle Paul was in prison and wrote to the church in the city of Philippi. When everything seemed to be stacked against him, Paul declares, "For I know that this will turn out for my deliverance through your prayer and the supply of the Spirit of Jesus Christ" (Philippians 1:19).
Paul anticipated deliverance. He expected God to turn everything for his good.
I'll ask you again, what are you anticipating? I'm anticipating that this is going to be a year of supernatural increase! I'm staying in faith for the prophetic word the Lord gave me for this year.
Just like the Psalmist, David said, "My expectation is from [God]…I shall not be moved" (Psalms 62:5-6). I really like how the Passion Translation interprets this Psalm, "He alone is my safe place – His wrap-around presence always protects me, for He is my Champion defender, there's no risk of failure with God, so why would I let worry paralyze me…"
Let me encourage you to never take your eyes off of God, never let go of His promises, and never cast away your faith!
In spite of everything that is happening around you right now, God is working behind the scenes to bring about your greatest victory! Don't give up now; your breakthrough is just around the corner.
I recently preached a powerful message titled, Don't Panic, Keep on Believing. In this message, I go into detail about how fear and panic is a trap to keep you from God's best and how your faith can produce great victories. As you give this month, I've asked my team to send you this needed teaching message as my thank you for your support.
There is so much negative news and so many voices screaming doubt at your heart. I'm here to stand with you and speak faith into your heart and spirit. And I'm not just talking about wishful thinking…our faith is planted in the unchanging, everlasting truth of God's Word!
When you give online at jerrysavelle.org you will receive an immediate download link for the MP3 of my new message, Don't Panic, Keep on Believing. You can also give by calling toll-free 1-866-576-4872 or by texting the word "GIVE" to 817-835-9625.
One of my favorite verses in Scripture is 1 John 5:4 which boldly proclaims, "And this is the victory that has overcome the world—our faith." As you give this month, attach your faith to it. Don't give out of routine or obligation. Give in faith and watch God bring a great victory!
I hope to hear from you soon. I'm standing with you, speaking faith and life over you, and anticipating your deliverance and victory is on the way!
Jerry Savelle
P.S. God spoke to me at the end of last year saying that 2020 will be a year of supernatural increase, and I'm not letting go of that word…not for me and not for you! In fact, let's go ahead and declare together Psalm 65:11 which says, "You crown the year with Your goodness, and Your paths drip with abundance." That's my prayer for you this year! Stay connected to this ministry and keep feeding your faith.