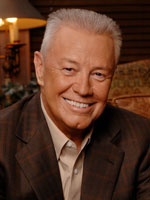 When you give this month, I will send you this faith-building message, The Law of Progression, as my thank you to you. Click here to give>
---
I have a special word for you today. This is a spiritual principle that is so close to my heart and I know that it will encourage and inspire you. Also, it just may be the catalyst to your breakthrough!
This year marks 50 years in ministry, and over those 50 years I've seen God do the impossible in my life time and time again. I often say that I must be God's favorite…and I often feel that way! But I know that God loves you and desires to do the impossible in your life, just as He has in mine.
I don't have some special, secret connection with God. I have simply surrendered to Him in full obedience and learned to apply the spiritual principles that position me to experience His divine miracles.
And I want you to do the same! I want to teach you to become the winner that God created you to be! So, I'm writing to you today to show you what I have discovered, and what has worked in my life.
First, let me ask you to check your heart. Are you fully surrendered? Are you seeking God's face (relationship), or are you seeking God's hand (provision)? When I study God's Word, it's out of a genuine desire to know God better, to spend time with Him.
The spiritual principles I've discovered are not a formula to make God do what you want. They are insight into His character and how His Kingdom operates. These principles only work because your heart is in tune with God's heart. That's why Jesus said, "But seek first his kingdom and his righteousness, and all these things will be given to you as well" (Matthew 6:33 NIV).
With the foundation of a right heart, let me show you one of the spiritual principles that has caused me to see the miracle power of God demonstrated in my life. It's what I like to call, The Law of Progression.
Jesus reveals how God operates in Mark chapter 4 saying, "The kingdom of God is as if a man should scatter seed on the ground, and should sleep by night and rise by day, and the seed should sprout and grow, he himself does not know how."
This means if you want to understand God's Kingdom, you have to understand how seeds work and how you are to use them.
Jesus said when the man plants the seeds, he goes to sleep! He doesn't stay up worrying and wondering if the seeds would grow. He believes that the seed is working and doing what it's supposed to be doing. He's patient and has confidence in the seed!
Let me ask you this, where do you suppose you would go to get seed if you don't have any? You could go to the store and buy any seeds you wanted. They have seeds for trees, plants, and flowers. Hundreds from which to choose.
But those seeds will never grow sitting in their package at the store. Why? Because the store isn't the proper environment for them to grow.
God's Kingdom operates like a seed being planted and the seed is His Word! Your Bible isn't the proper environment for His seed to grow. Your Bible is the storehouse of God's Word (seed) and it has to be planted in your heart (soil)!
Get God's Word out of your Bible and get it planted in your heart! Your heart is the good ground where God's Word can grow!
The apostle Peter said that the Word of God is incorruptible seed (1 Peter 1:23). God's Word has the power to produce a harvest in your life if it's planted in good ground.
Jesus continues to reveal the Law of Progression saying, "For the earth yields crops by itself: first the blade, then the head, after that the full grain in the head. But when the grain ripens, immediately he puts in the sickle, because the harvest has come" (Mark 4:26-29).
Notice how Jesus says that the Kingdom of God operates in steps. There is a progression to how He does things. There's a blade, the head, the full grain, a time to ripen, and then the harvest!
The Law of Progression reminds you to be patient!
You will be tempted to quit and give up. You will be tempted to dig up your seed to see if it's working. Refuse to give impatience a place in your life. Keep your faith, keep God's word planted in your heart.
When you're trusting God, it often seems like all hell breaks loose in your life. Don't give into the discouragement. You can turn your life around. You can push through the resistance and experience victory!
It may seem like you're paddling upstream, all the forces of hell are trying to push you backwards, but you keep paddling! You keep trusting. You keep your eyes on Jesus, Who is the Author and FINISHER of your faith (Hebrews 12:2)! Remember He who has begun a good work in you will complete it (Philippians 1:6).
You may not see the results yet, but the blade is about to break through the surface! You're in the steps of progression. God's Word is working on your behalf right now!
Faith is not mystical. If you can understand how a seed works, you can understand how God is going to work a miracle in your life. It's going to happen through a series of progression! First the blade, then the head, then the full grain, and then it has to ripen before the harvest.
There are steps of progression!
And when you plant God's Word in your heart, don't dig it up through doubt and unbelief. Jesus warned that Satan comes immediately to steal the Word (Mark 4:15).
You will have to protect the Word planted in your heart. There will be outside forces that try to dig it up.
Don't listen to the lies of the devil. Don't be moved by what you hear or how you feel! You push back on the attacks of the devil and you speak God's Word to your circumstances!
Stop talking the problem and start talking God's Word!
I know that it can be very discouraging when it seems like nothing is changing. That's why I want you to get your hands on this month's teaching resource. In my powerful, life-altering message, The Law of Progression, I give in-depth instructions on how to overcome the temptation to quit and how to see your harvest come to pass! When you give this month, I will send you this faith-building message, The Law of Progression, as my thank you to you.
You are not alone in living by faith. God has put us together for your encouragement and to strengthen your faith. I'm praying for you and expecting your breakthrough harvest to manifest! I hope to hear from you soon.
In Him,
Jerry Savelle
P.S. God works in steps, not leaps and bounds. Psalms 37:23 says, "The steps of a good man are ordered by the Lord." You can't skip steps. You can't expect a harvest without first planting seed! The first step is planting seed. After you sow seed, allow the Law of Progression to work! God's Word will not return void. Your harvest is on the way!