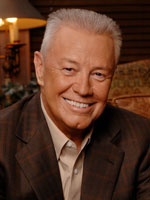 When you give this month, I'll have my team send you my special, powerful teaching, How to Increase During Financial Famine, as my thank you for your faithful support. Click here now ⟩
---
Have you ever experienced what I call a financial famine? Have you gone through seasons where you just didn't have enough money to take care of your needs?
Before receiving a revelation of God's blessing and favor on my finances, I was broke, in debt, and couldn't see a way out of lack. I hated never having enough.
Do you feel the same about lack?
As I read my Bible, I see overwhelming evidence that God desires for you and I to live a blessed life with more than enough and able to give to every good work! He doesn't want you to just barely get by and live a mediocre life. You are called to be the lender NOT the borrower, the head and not the tail!
I have a special mandate and anointing on my life to prophetically declare God's plans for financial increase and breakthrough. The Lord holds me responsible for sharing with you the revelations He has given to me.
As you read this letter, have an open heart and allow God to break down walls of old thinking and build your faith for supernatural increase as never before.
It's possible for you to be exactly where God wants you to be and still face hardship and troubles. What should you do when you're right where God told you to be, but things don't seem to be working? How you respond in those moments determines your outcome.
We read the account of Isaac facing lack and insufficiency in Genesis chapter twenty-six. Verse one says, "Now there was a famine in the land…" The famine had gotten so bad that many people in the area left for Egypt to find relief.
I've met some Christians that react to trouble the same way…they run away from what God has spoken to them. Don't let that be your story! When you face hardships, don't cut and run. Stand your ground and keep trusting and obeying God.
As you continue reading Genesis chapter twenty-six, God speaks to Isaac in verse two and three saying, "Do not go down to Egypt; live in the land where I tell you to live. Stay in this land for a while, and I will be with you and will bless you."
"Going to Egypt" represents you trying to do things the world's way instead of God's way. You may be in a situation where your natural thinking tells you to respond one way but God's Word tells you to respond another way. Even when it doesn't make sense in the natural, always stick with God's way!
Regardless of how impossible the circumstances may seem, if you will stay where God has called you, He will be with you and bless you in that place!
It's better to be in a place of famine with God, than in Egypt without God!
Isaac made the right choice and stayed where God had directed him. And what happened in this place of famine and lack?
Genesis twenty-six, verses twelve through fourteen say, "Isaac planted crops in that land and the same year reaped a hundredfold, because the Lord blessed him. The man became rich, and his wealth continued to grow until he became very wealthy. He had so many flocks and herds and servants that the Philistines envied him."
That is supernatural increase!
Isaac was in a famine, and yet he planted. When it was the least convenient time to sow, he did. When others would hold what little they had, he sowed! When others would eat the last of their resources, he sowed!
I learned a long time ago, when I face my greatest need, what I have in my hands becomes my greatest seed.
I declare to you today: if you will make sowing your lifestyle, you'll always be a candidate for supernatural increase!
Sowing now and then or here and there isn't a lifestyle. There is a big difference between someone who sometimes sows and someone who is a sower. My wife, Carolyn, enjoys gardening, but that doesn't make her a farmer. I love reading courtroom dramas. I could even fill my bookshelf with law books…BUT that doesn't make me a lawyer!
Sowing is what a sower does! Not occasional. Not only when it's convenient. Make sowing your lifestyle!
You can sow your way out of famine! You can sow your way out of lack! The wisdom in Proverbs chapter eleven, verse twenty-four in the Passion Translation reveals, "Generosity brings prosperity, but withholding from charity brings poverty."
If you hold on to the seed you're supposed to be sowing, it can lead to poverty.
When you make sowing a lifestyle, you choose to sow on your own without waiting for God to have to tell you to. Galatians chapter six, verse seven instructs, "Do not be deceived, God is not mocked; for whatever a man sows, that he will also reap."
God allows you to determine what you sow. In fact, that's why Paul encouraged the believers in Corinth writing, "Each of you should give what you have decided in your heart to give, not reluctantly or under compulsion, for God loves a cheerful giver" (2 Corinthians 9:7 NIV).
God will at times impress on you to give a certain amount or special gift at a specific time, but, more often than not, it's up to you to choose how generous you will give.
I choose to be a giver! It's what I do and who I am! I live to give. I'm not waiting on a "glory ball" to hit me telling me to give. I'm not waiting for "Holy Ghost goose-bumps" to convince me to give. I've determined in my heart to be a generous giver every chance I get. I even look for opportunities to give!
When you choose to be a giver, you're activating your faith to operate in God's economy of supernatural harvest. That's why Paul says, "Remember this: Whoever sows sparingly will also reap sparingly, and whoever sows generously will also reap generously" (2 Corinthians 9:6 NIV).
You determine the amount of seed, and you determine the amount of harvest!
It's also important to check your heart-motives when it comes to your finances. God's supernatural increase in your life isn't just so you can increase your level of living; God's blessing on your life is so you can increase your level of giving.
God wants to get blessing to you so He can get blessing through you. You are blessed to be a blessing!
Your giving allows you to be part of the life-change and eternal impact of God's plan in your generation. Your giving goes places you will never travel to. Your giving helps people you will never meet this side of heaven.
It is because of you, Pastors in Africa are being trained with our Bible School curriculum, people are inspired through our television outreach, and others are discovering God's purpose for their lives.
Thank you for giving and impacting people's lives around the world!
I'm linking my faith together with you for supernatural increase on the seeds you've sown, and I want to strengthen your faith until you see it manifest. When you give this month, I'll have my team send you my special, powerful teaching, How to Increase During Financial Famine, as my thank you for your faithful support.
You can give securely and easily by clicking the "Donate" button below (and get an immediate download of this inspiring teaching) or by texting "GIVE" to 817-835-9625. You can also call toll-free 1-866-576-4872.
If you're a faithful, consistent sower (sowing is your lifestyle), then I declare that your days of lack and insufficiency are coming to an end. This season of famine is going to break as you see supernatural increase this year beyond anything you've experienced before!
I'm standing with you and hope to hear from you soon.
In Him,
Jerry Savelle
P.S. Refuse to get discouraged while waiting for your harvest. Stay where God has placed you and refuse to seek another way. When God is with you and His blessing is on you, you can overcome the most impossible situations! Stay faithful, keep sowing…your harvest is on the way!