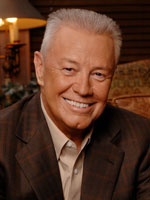 As you give this month, I want to send you my faith-building message, Basic Principles of the God-Kind of Faith. In this powerful resource I give an in-depth teaching about how to develop and maintain the type of faith that sees the supernatural. Click here now ⟩
---
Do you know the main reason why Christians miss out on God's best? Why is it that many believers draw back and stop pressing forward in faith?
I've lived by faith for 52 years now and I'm going to share with you today the number one reason I have seen Christians fail in this area of their walk of faith.
To live by faith requires that you see past what is apparent and obvious in the natural and see something that is happening spiritually. The apostle Paul explains in 2 Corinthians 4:18, "While we look not at things which are seen, but at the things which are not seen…"
In other words, just because you can't see it with your natural eyes doesn't mean that it doesn't exist. In fact, as a believer, you know that the supernatural (unseen) is greater than the natural (seen).
Paul goes on to encourage us to "walk by faith, not by sight" (2 Corinthians 5:7).
So, what is the number one reason I have seen Christians fail in their life of faith?
They are moved by what they see, hear, or feel.
I know that circumstances often appear impossible and that what you are facing is bigger than you. I also know in the natural there doesn't seem to be a way out of it.
That is why I rejoice in the fact that you and I don't serve a God that is limited to the natural! He specializes in doing the impossible! He is still healing, restoring, and blessing His people. I want to encourage you to continue to do as Jesus instructs in Mark 11:22, "Have faith in God."
DON'T BE MOVED BY WHAT YOU SEE, HEAR, OR FEEL!
That is one of the basic principles of operating in real Bible faith. In fact, Jesus teaches that to be moved by your five physical senses is actually to be faithless (John 20:27).
This is why being connected to faith-building ministries is so vitally important in the life of a believer. This world is constantly bombarding you with doubt and unbelief based on all the natural facts. If you are not purposeful to build your faith, over the course of time, you will begin to accept your five physical senses as truth. But they are not. What is seen is only temporary!
The Old Testament account of the prophet Elisha and his servant at Dothan describes an impossible situation. As they were vastly outnumbered by an invading army, Elisha's servant was hopeless and distraught.
But Elisha could see something that his servant couldn't. 2 Kings 6:13-17 reveals, "…Elisha prayed and said, Lord, I pray thee, open his eyes that he may see. And the Lord opened the eyes of the young man and he saw and behold, the mountain was full of horses and chariots of fire round about Elisha."
From this, you can understand that there are things happening in the spirit realm that can't yet be seen with the natural eye, but they are getting ready to be revealed and manifest in the natural realm.
God is moving and at work in your life in ways you do not yet see.
God has already spoken some things about what you are to expect to take place in the days in which we are living. The prophetic word He gave me is that 2021 is a year of abundant overflow! Lay hold upon that and don't let it go!
Contrary to what it presently looks like, God has some wonderful things in store for you. That's why you must stay focused on what He says and not on what the news media or your five physical senses are telling you.
Stand in faith and refuse to be moved by what you see, hear, or feel!
I'll say it again, God has good things in store for you. Jeremiah 29:11 in the Message declares, "I have it all planned out – plans to take care of you, not abandon you, plans to give you the future you hope for." Regardless of how it may look, don't fret, don't worry and have no fear; God has it all worked out.
You might be thinking, "But Brother Jerry, how could God do that in times like these?"
Let me answer that with this; study your Bible again. He's done it before, and He can do it again! He's God, and nothing is impossible for Him.
Trust God to open your eyes to see what's going on in the spirit realm. Ask Him to show you the abundance that He has planned for you and begin to see abundant overflow by faith.
I hope you get a revelation of this deep down in your spirit and begin to see it as more "real" than what is apparent in the natural.
Get a vision for God's abundant overflow!
There is about to be an overflow of God's goodness as never before. God is the author of abundance and not lack. Abundance for His children has always been His plan. 2 Chronicles 31:5 says, "…the children of Israel brought in abundance, the first fruits…and all the increase of the field, and the tithe of all things brought they in abundantly".
Where did all this abundance come from? It came from their God! Deuteronomy 28:11 declares, "The Lord shall make thee plenteous in goods."
God's absolute best is for you to experience abundance. What is abundance according to the Bible? It's a manifestation of God's goodness! And it's about to be poured out on you as never before.
I'm so thankful that God has called me to teach, inspire, and strengthen you. It's such an honor to be able to speak into your life and help open your eyes to the reality of God's plan for you. That's why I have books, audios, and the television outreach. I want to see you experience God's goodness the same way that I am.
There is power in agreement, and I want to link my faith with yours. When you give this month, include a prayer request so that my staff and I can agree with you.
Also, as you give this month, I want to send you my faith-building message, Basic Principles of the God-Kind of Faith. In this powerful resource I give an in-depth teaching about how to develop and maintain the type of faith that sees the supernatural.
To give online click the donate button below and you'll receive an immediate link to download this month's teaching resource on MP3, Basic Principles of the God-Kind of Faith. You can also give by calling 1-866-576-4872, or by texting "GIVE" to 817-835-9625.
Thank you for believing in this ministry and for supporting the mission God has given me. You are a vital part of everything we do! I'm praying for an outpouring of God's goodness and favor in your life! I hope to hear from you soon.
In Him,


Jerry Savelle
P.S. I encourage you to speak God's goodness over you and your family. Romans 4:17 states, "God…calls those things that be not as though they were." Begin declaring an abundant overflow of God's goodness in every area of your life!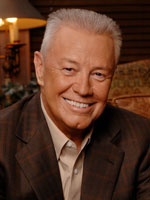 As you give this month, I've asked my team to send you this powerful teaching resource "It's time to press into the prophetic promises of God", as my thank you. Click here now ⟩
---
How long are you willing to trust God? Do you have a no quit faith?
While praying about what the Holy Spirit wanted me to share with you, I kept hearing in my spirit these words, "It's time to press into the prophetic Promises of God."

What does this mean?
First of all, the word "Press" is defined as:
1) The state of being persistent
2) To be urgent or demanding, compelling action from one's self
3) To engage in a relentless manner for a certain cause
4) To make a strenuous effort to achieve something of great importance
5) To earnestly endure
6) To hold fast without wavering or compromising
This is what the Apostle Paul meant when he said, "I press toward the mark for the prize of the high calling of God in Christ Jesus" (Philippians 3:14).
If you want to experience all that God promises, you're going to have to develop what I call a no quit faith. That's the attitude Paul had. Regardless of the hardships, persecutions, and betrayals, Paul refused to back down.
That's the attitude that we all must have if we truly desire to see the fulfillment of God's promises. It simply comes down to, "How much do you want them to come to pass in your life, and how long are you willing to persevere?"
The Prophetic Word that I shared with you last year has been that God would open a new door, and supernatural increase would come as never before. I have literally experienced this, and I'm still "pressing" for it this year as well, and like the Apostle Paul, I'm not turning back!
Sadly, God's people often give up too soon.
How long are you willing to persevere? There are some promises from God that I've been believing to see for over 20 years! And in the past few months, some of those promises have manifested! God is no respecter of persons. If you stay in faith, if you keep pressing, God's promises will manifest in your life!
Jesus said in Mathew 11:12, "The violent take it by force." The Amplified Bible says, "A share in the heavenly kingdom is sought with most ardent zeal and intense exertion." In other words, once you are convinced that what God said is true and it belongs to you, then you should let nothing stop you.
Don't give up until you take possession of it!
If God says that I can have it, then I'm not giving up until I have it! You might be thinking, "But you don't understand, the devil is fighting me day and night, and it's so hard to keep on going."
But that's what perseverance is all about! I know it's not easy…that's why people quit. Before being saved, I always looked for the path of least resistance. If things got tough, I'd quit.
I had to develop the art of continuing. And you can develop that same attitude. You can have that same tenacity!
God would never expect persistence from you if it weren't possible.
You are going to have to stand strong and fight the good fight of faith. James 4:17 instructs you to, "Submit yourselves therefore to God, RESIST THE DEVIL AND HE WILL FLEE FROM YOU."
In other words, stand your ground and refuse to waver! How persistent are you in doing this?
There are examples all over the Bible of people who demonstrated a relentless faith and how God rewarded them by fulfilling what He had promised to them.
Paul tells us that their stories were recorded for our benefit. He wrote in Romans 15:4, "That we through patience and comfort of the scriptures might have hope."
That's why you need to stay in the Word, so that these examples will continuously encourage you to press on. The Book of Hebrews records many stories of these "relentless people" and how God honored their faith. And He has promised to do the same for you if you will follow their example!
Hebrews 11:33-34 declares, "Who through faith subdued kingdoms, wrought righteousness obtained promises…" Did you see that? It was through standing in faith that they OBTAINED PROMISES. The Passion Translation puts it this way, "Their faith fastened onto their promises and pulled them into reality."
Fastened means to firmly attach or to secure so that you're not likely to give up or to give way. Another definition is to become incapable of being overcome with doubt or discouragement.
Is this what you're doing? Does this describe you?
I'm here to talk you out of quitting and in to winning! Take a stand of faith. Refuse to give up or give in. That's how you lay hold of the prophetic promises.
You can persevere knowing that God is faithful.
Deuteronomy 7:9 encourages you saying, "Know therefore that the Lord thy God, he is God, THE FAITHFUL GOD, which keepeth covenant…to a thousand generations." This would certainly include you and me! Declare today, "MY GOD IS THE FAITHFUL GOD!"
Now, if you truly believe God is faithful, then don't ever stop expecting Him to bring His promises to pass on your behalf.
The Holy Spirit revealed to me that 2021 is, "THE YEAR OF ABUNDANT OVERFLOW." I encourage you to go for it! Don't shrink back or relax your faith. Stand firm and see God bring abundance and promotion to you this year.
I want you to have my recent message titled, It's Time to Press Into the Prophetic Promises of God. This teaching will equip you to keep fighting and stay strong in faith.
This month as you give, I've asked my team to send you this powerful teaching resource right away.
When you give, you're linking your faith to this prophetic message and you're declaring that God is faithful.
To give online click the donate button below and you'll receive an immediate link to download this month's teaching resource on MP3, It's Time To Press Into The Prophetic Promises of God. You can also give by calling 1-866-576-4872, or by texting "GIVE" to 817-835-9625.
This is your year for abundant overflow! I'm believing that, and declaring it for you and your family. It's time to press into the prophetic promises of God!
In Him,


Jerry Savelle
P.S. Do you have a no quit faith? How long are you willing to trust God? Determine now to keep pressing for all of God's promises. I'm trusting God's goodness and abundance is on its way to you. I'm standing with you in faith! I hope to hear from you soon.