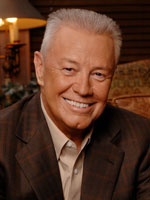 As my thank you for your giving this month, I will send you a powerful teaching message that I recently preached in Canada titled, Reignite Your Passion for God. This is a faith-filled message that is sure to inspire you and help you continue with the zeal you started with!
Click here to give>
---
I firmly believe that Christians should be the most excited, enthusiastic people in the world.
Sadly though, that is not always the case! I've met some believers who were so sad, unmotivated, and gloomy, that it made people around them depressed!
Jesus told us in John 10:10 that one of the primary reasons He came was to give us abundant life. That means life to the fullest! That sounds like an exciting life to me, how about you?
I long ago decided that I want all that God has for me. I'm not going to hold anything back. I'm "ALL IN" for God's plan for my life.
I travel this world every year teaching people, just like you, how to be winners in life – that means experiencing the "more than you can ask, think or imagine" type of life that God desires you to have.
The Apostle Paul gives us one of the keys to living this type of life. He wrote in Romans 12:10-12 that we need to, "Be devoted to one another in love. Honor one another above yourselves. Never be lacking in zeal, but keep your spiritual fervor, serving the Lord. Be joyful in hope, patient in affliction, faithful in prayer."
Your walk with Christ must be marked with zeal and spiritual fervor!
Don't become stagnant and plateau in serving the Lord. Refuse to let your fire and zeal burn out. Some Bible translations describe this spiritual fervor you should have as ENTHUSIASM.
Don't be like some people I know who were excited at the beginning of their walk with the Lord, only to lose their zeal and become discouraged.
Do you remember how determined and passionate you were for the Lord when you first gave your life to Him? You wanted to go to church, not because you felt like you had to. You loved reading the Bible and learning more about God. Are you still just as determined and passionate now as you were back then?
It may sound elementary, but this life of faith requires…faithfulness.
Like many Christians today, the believers in Galatia about 2000 years ago had lost their spiritual fervor for Christ. Paul writes to them in Galatians 5:7 saying, "You were running the race so well. Who has held you back from following the truth?"
Maybe you can relate to what Paul is saying here. It's great that you started well…but I'm here to encourage you, inspire you, and teach you what it takes to FINISH WELL!
God spoke to me and said that this year "The faithful will flourish and thrive!"
Faithful people don't lose their zeal. Faithful people refuse to quit. Faithful people encourage themselves in the Lord and keep their passion to serve Him. Faithful people will stand against challenges and having done all to stand…they keep standing!
Quitting is not an option for you! God has called you to something greater. Your best days are ahead and I encourage you are going to keep running to the finish line!
This is not a short, sprint race. This is a long distant endurance race!
I have been running this race for 48 years now and I have seen how God has poured out His blessings on the faithful time and time again. God is looking for faithful people in behalf of whom He can show Himself strong.
Make the quality decision that you will be one of those He's looking for, and refuse to back down!
I made that decision 48 years ago and I'm just as determined and passionate about serving God now as I was then. I'm also committed to running alongside you and helping you reach the finish line! You can do it, so don't back down now!
It's because of you, my faithful partner, that I'm able to teach people all over the world how to win in life, and to keep running the race! After running your race, I want you, along with millions of others, to hear God say, "Well done my good and faithful servant."
This month as you give, I've asked my staff to send you a powerful teaching message that I recently preached in Canada titled, Reignite Your Passion for God. This is a faith-filled message that is sure to inspire you and help you continue with the zeal you started with!
One of the greatest ways you can remain faithful is with your giving. I have discovered that when you are faithful in your giving and generosity, you are also faithful in other areas of your faith.
This is because the way you handle your money is connected to your heart (Matthew 6:21).
When you give online at jerrysavelle.org, you will receive an immediate download of this month's teaching resource, Reignite Your Passion for God, as an MP3. Or, if you prefer, you can use the enclosed reply slip and postage-paid return envelope to give and be sure to check the box to receive my message on audio CD.
Your faithful support of this ministry makes you a partaker of the same grace and anointing on my life. I pray that the same passionate, no-quit attitude I have is yours also!
Let's keep running this race together! I'm praying for you and declaring God's blessing over your life!
In Him,
Jerry Savelle
P.S. I have found that it is easy to be blessed. How do you do it? Stay faithful! Run the race God placed before you and never quit! This is your time to flourish!