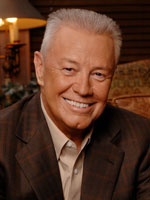 As you give this month, I want to send you my faith-building message, Developing Relentless Faith, that will inspire you to stay in faith and refuse to quit. As you give this month, I've asked my team to send you this audio teaching as my thank you for your support. Click here now ⟩
---
Do you want everything that God has promised you? How long are you willing to wait for God's best in your life? How persistent are you to endure?
God is faithful to fulfill every single promise found in Scripture. In fact, God is working behind the scenes right now on your behalf. But let me remind you, you are not in charge of God's timing. You don't have to figure out how God does the impossible…your job is to stay patient and stay in faith.
However, you do have a spiritual enemy that isn't going to just sit back and allow you to experience God's goodness without a fight. 1 Peter 5:8 (NIV) warns you to, "Be alert and of sober mind. Your enemy the devil prowls around like a roaring lion looking for someone to devour."
I want to help you become stronger in your faith and teach you how to outlast the attacks of your adversary. You can learn how to be relentless and fight for the promises of God!
The writer of Hebrews calls us to a relentless faith saying, "We want each of you to show this same diligence to the very end, so that what you hope for may be fully realized. We do not want you to become lazy, but to imitate those who through faith and patience inherit what has been promised" (Hebrews 6:11-12 NIV).
I've met some Christians who have become spiritually lazy. They settle for less than God's best. They aren't willing to fight for the promises of God. They say, "It's too hard." They say, "It's never going to happen." They say, "It didn't work for so and so; I guess it's not going to work for me."
But that's not you! You're a person of faith and patience. You're going to stay in faith and keep believing to see the goodness of God.
Hebrews instructs you to "imitate those who through faith and patience" are experiencing God's goodness and blessing. That means you can learn from the example of others. There are ministers that have gone before me that have inspired my faith. Similarly, I pray that my life and my faith is an example to you and will inspire you to stay strong in faith.
I want my fight of faith to encourage you to stay in the fight!
Everything worth having requires a fight. In fact, I love watching athletes who excel. Some of the greatest athletes seem to make it look easy, like they were born with extreme talent. And yes, while they are talented, the reality of why they achieved the level of success they did was because of dedication and relentless work.
You don't gain God's best, or life's best, by being a quitter!
If you ever want to see the fullness of God's destiny for your life, you must develop the art of continuing. Make the decision that quitting is not an option. That means getting rid of the "exit options." If you have "options" to quit in the back of your mind, you will end up talking yourself out of God's best and settling for less.
One of the greatest examples of relentless faith is the Apostle Paul. He had a "no quit" attitude. He was persecuted, imprisoned, shipwrecked, beaten, and betrayed. Yet he never stopped pursuing his destiny.
In Acts 20:23-24, Paul explains that the "Holy Spirit testifies in every city, saying that chains and tribulations await me. But none of these things move me…" That is what it means to be relentless! He was so determined to follow God that nothing was going to stop him.
You can imitate this same type of relentless faith! Regardless of how impossible it looks, no matter how long it's taking, even if others turn on you…you stay in faith, trusting God.
One of the meanings of relentless is continuing without folding.
We all have opportunities to quit. Every step of faith I've taken personally and in ministry has come with many opportunities to quit! I have had to learn to fight for what God has promised.
I wasn't always so focused and disciplined though. Before surrendering to Christ, I was a quitter. Quitting was my mode of operation. When things got tough, I'd quit.
But then one day after turning my life over to God, I was reading the Bible and came across a verse that changed my life. I was so hungry to know God and read, "If you continue in my word, then are you my disciples indeed" (John 8:31). That verse grew so big on the page as I read it. I realized I never continued in anything. I was good at starting things, but, I never saw them to the finish.
I remember standing up in our guest bedroom and declaring, "In the name of Jesus, my days of quitting are over. I am no longer a quitter, and from this day forward, I'm determined to be a winner."
I'm so thankful for the transformation that God has done in my life! Over the past fifty-two years I have developed the art of continuing, and I have seen God's goodness as a result. I want you to have the same testimony.
Let me close by telling you that it's not a sin to face discouragement. Part of being relentless is fighting against discouragement. Don't let Satan beat you down with shame because you're battling the temptation to quit.
I want to pray over you to be free from the shame of feeling like giving up. I also want to pray for your strength and focus:
Heavenly Father, in the name of Jesus I pray for each person reading this letter. I pray that the Holy Spirit would rise up on the inside of them giving them fresh hope for the future. Lord, in the moments of silence, when the voice of the enemy is condemning them, I pray that the voice of the Holy Spirit would be louder, inspiring them to never quit. Lord, I pray that the words of this letter spoke life to their spirit and that they will be determined to fight the good fight of faith. Amen.
If this letter spoke to you, I want to hear from you. I want to continue to link my faith with yours.
Also, this month's teaching resource, Developing Relentless Faith, will inspire you to stay in faith and refuse to quit. As you give this month, I've asked my team to send you this audio teaching as my thank you for your support.
To give online click the donate button below and you'll receive an immediate link to download this month's teaching resource on MP3, Developing Relentless Faith. You can also give by calling 1-866-576-4872, or by texting "GIVE" to 817-835-9625.
Don't settle for anything less than God's best. Stay in the fight. I'm standing with you and believing for you and your family to see an abundant overflow of God's goodness this year!
In Him,


Jerry Savelle
P.S. One of my favorite verses is Proverbs 24:16 which declares, "Though the righteous fall seven times, they rise again." You may get knocked down seven times, but you can get up eight! God is not done with you. You can get up, brush yourself off, and keep moving forward. God's promises are for you, and you have a future and a hope! I look forward to hearing from you soon.