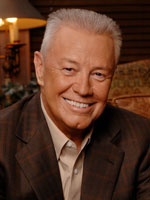 I recently preached a message that you need to hear. I've instructed my team to send you my anointed audio message, Prosperity and Health – Manifestations of the Goodness of God. Click here now ⟩
---
I have a question for you, do you truly want God's best in your life? Are you convinced that God desires good things for you?
Nothing pleases Him more than when He sees His children living in the fullness of His blessing. Do you agree that this is what He wants for you?
If you're unsure, you will always struggle to completely trust God. It's so important to settle this question in your heart.
The Apostle John understood this, and that's why he wrote by inspiration of the Holy Spirit, "Beloved, I pray that you may prosper in all things and be in health, just as your soul prospers… I have no greater joy than to hear that my children walk in truth" (3 John 2, 4 NKJV).
Prosperity and health are God's best for you. Don't ever let anyone tell you that God doesn't want you to prosper and that He doesn't want you to enjoy divine health. That's simply not true.
In fact, the Bible reveals that God is the author of every good gift (James 1:17). Prosperity and good health are two of the good gifts from God.
Just ask the poor man, "Is poverty good?" Just ask the sick man, "Is being in poor health good?" They'll both tell you, "No, it's not good." Well, if it's not good, then God is not the author of it.
The Psalmist declared of God, "You are good, and do good…" (Psalm 119:68). I like to say that God is the source, the origin of all good things. Since prosperity and health are both good gifts from God, and because you're His child, then it's your privilege to enjoy them (1 Timothy 6:17).
Jesus declared of Himself, "The Spirit of the Lord is upon me, because he hath anointed me to preach the gospel to the poor; he hath sent me to heal the brokenhearted, to preach deliverance to the captives, and recovering of sight to the blind, to set at liberty them that are bruised, to preach the acceptable year of the Lord" (Luke 4:18-19).
Did you notice that both prosperity and health are in that proclamation.
Then the Bible tells us, "How God anointed Jesus of Nazareth with the Holy Ghost and with power: who went about doing good, and healing all that were oppressed of the devil; for God was with him" (Acts 10:38).
Did you catch that, "Healing all who were oppressed of the devil"? Oppressed implies burdened down psychologically, mentally, physically, or financially. And also notice that by healing those who were experiencing these things, it was referred to as a manifestation of the goodness of God.
And God wants to do this for you!
Why? Because He is good! And everything He does is good. He was good then, and He's still good today. Furthermore, He hasn't run out of goodness! Exodus 34:6 encourages us saying, "The Lord God, merciful and gracious, longsuffering, and abundant in goodness and truth."
The word abundant can also be translated as "overflowing and running over." That sounds as though there is still plenty of God's goodness for you and me to experience.
If you need either prosperity, or healing, or both, you're reading the right letter. Activate your faith and make a demand upon this prophetic word.
You can do just like the man in the Book of Acts who heard Paul preach! Acts 14:8-10 reveals this man "…heard Paul speak; who steadfastly beholding him, and perceiving that he had faith to be healed…" The Message Bible says the man was, "Ripe for God's work, ready to believe."
Are you ready to believe?
Are you ready to believe that God wants to pour out His goodness on you so that you will prosper and be in health as never before? Jesus said in Mark 9:23, "If you can believe, all things are possible to him who believes."
If you believe, declare it with your mouth. Say this out loud, "Lord, I receive prosperity and health. Thank You for Your good gifts!"
Why would I ask you to say it? Because real Bible faith speaks. The Apostle Paul said, "…We also believe and therefore speak" (2 Corinthians 4:13).
The Psalmist instructs, "Let them shout for joy and be glad, who favor my righteous cause; and let them say continually, 'Let the Lord be magnified, Who has pleasure in the prosperity of His servant'" (Psalm 35:27 NKJV).
If you truly believe that God wants to prosper you, then be bold to speak it. If you truly believe that He wants you to live in divine health, then be bold to speak it.
There is an anointing on my life and this ministry for prosperity. Most of the prophetic words I receive from God have to do with finances and financial breakthrough.
If you need a financial breakthrough, I want to link my faith together with yours. I'm praying, like the apostle Paul, that you would prosper and be in health even as your soul prospers. I'm declaring victory and God's best over your life.
As you give this month, I've instructed my team to send you my anointed audio message, Prosperity and Health – Manifestations of the Goodness of God, as an instant MP3 download or compact disc.
To give online click the donate button below and you'll receive an immediate link to download this month's teaching resource on MP3, Prosperity and Health – Manifestations of the Goodness of God. You can also give by calling 1-866-576-4872, or by texting "GIVE" to 817-835-9625.
When you give, you're activating your faith and positioning yourself to receive God's goodness in tangible, manifested ways.
I look forward to hearing from you and rejoicing with you for the goodness of God being revealed in your life. I'm standing with you!
In Him,


Jerry Savelle
P.S. Solomon, full of God's wisdom declared, "The blessing of the Lord makes one rich, and He adds no sorrow with it" (Proverbs 10:22 NKJV). God's blessing is more than just physical. He desires to manifest His goodness and bless you far beyond what this world offers. Thank you for believing in and supporting this ministry.