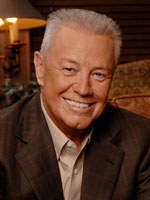 As you give this month, as my thanks to you, I want to send you my message titled, God's Divine Influence at Work in Your Life. I know this teaching will open your eyes even further to new possibilities and cause your faith to grow.  Click here to give>
---
Imagine how wonderful to be so blessed that you could pay cash for whatever you need and still have plenty left over. What if you were so blessed that you never had to be concerned about experiencing lack ever again?
God has no problem with us dreaming of being extremely blessed. In fact, that's one of the reasons that He gave us His Word (in print) in the first place – so that you could dream of being blessed the way He describes it in Scripture. So that you could allow your imagination to soar, and receive the vision of how He wants you to live.
Go ahead and dream of being successful in all that you do. Go ahead and dream of living a prosperous life. In fact, go ahead and dream of every dimension of your life overflowing with blessings from God!
You have a right to see yourself blessed! Why? Because you are the seed of Abraham (Galatians 3:29). God told
Abraham that He would not only bless him, but also his seed after him (Genesis 17:7).
So how blessed was Abraham? We discover in Genesis 24:1 that "Abraham was old and well stricken in age and
the Lord had blessed Abraham in all things." You could say, every dimension of Abraham's life was overflowing
with blessings. And since you're his seed, God wants to do the same for you! So, go ahead and dream it.
But while you're doing all this dreaming, don't forget to dream of how you can BE a blessing to others. Remember, there is a purpose to prosperity! God speaks in Genesis 12:2 and tells us, "I will…bless thee and …
thou shalt be a blessing."
Undeniably, God wants to do great things in our lives, but at the same time He expects us to do
great things for Him.
I encourage you to make your dreams of giving as lofty as your dreams of receiving.
When you become a giver, you open up new ways for God to bless you. 2 Corinthians 9:10 in the Amplified
version says that God will, "Increase your resources for sowing." That means God will give you more so that you
can continue to give more!
Why was God able to bless Abraham so greatly? In Genesis 14:20 we discover that Abraham was a tither! It says, "And he gave him tithes of all."
By giving "tithes of all," Abraham acknowledged that God was the reason for the great victory that he had
experienced. In his mind, he was thinking "How can I not do something great for God when He has done such
great things for me?"
It was an expression of Abraham's gratitude for the Divine influence he had witnessed. He knew that had it not
been for this, he certainly would not be celebrating a victory.
Abraham's faithfulness as a giver played a major role in why the Bible says, "And God had blessed him in every way."
Every dimension of his life overflowed with blessings. He was blessed and he was a blessing just as God had told
him. He honored God and he never forgot that it was God who had blessed him and it was God who had made
him rich.
Proverbs 3:9-10 is a well-known passage but listen to how it reads in The Passion Translation:
"Glorify God with all your wealth, honor Him with your very best and with every increase that comes to you then every dimension of your life will overflow with blessings."
Wow! What a way to live! Can you see that – can you dream that – can you imagine that? I can! But don't forget
that kind of lifestyle comes from being one who honors God, one who gives back to Him. Begin to dream big
about giving back to God!
The bottom line is, if you truly want every dimension of your life overflowing with blessings, then never stop
sowing.
I am so thankful to have partners and friends like you who desire to give and do something great for God.
Because of faithful givers like you, this ministry is reaching people who don't know God and teaching believers
how to walk in the victory!
As you give this month, as my thanks to you, I want to send you my message titled, God's Divine Influence at
Work in Your Life. I know this teaching will open your eyes even further to new possibilities and cause your faith
to grow.
Together we can continue to share God's love and make a great impact for the cause of Christ!
In Him,
Jerry Savelle