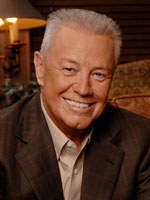 As you give, I want to thank you by sending you my recent teaching message, Go For It – Your Faith Makes It Possible. Don't wait. Don't delay. Get this teaching resource and start building your faith today. Click here to give>
---
I'm going to ask you three important questions. What are the greatest challenges you are facing today? What looks as though it is utterly impossible in your life today? What do you need to break loose, so that your life will be better this year?
At the end of last year, the Lord interrupted me one day and said, "Extraordinary things are taking place in the heaven lies and 2016 will come to be known as the year of the great breaking loose."
Why do you suppose God would give me this prophetic word for this year? I didn't think it up. God spoke it to my spirit prophetically and instructed me to teach it throughout the year. God spoke it to me, so that I could speak it to you.
I declare to you today, God has decided it's time for a great breaking loose in your life! And when God decides it's time, no devil can stop it!
No matter how impossible your challenges may seem to you, it's not impossible to God.
Throughout all of Scripture we are told of impossible looking situations that were turned around by the power of God. So no matter how impossible your circumstances may seem, don't allow doubt and despair to fill your heart.
Instead, allow the spirit of faith to rise up on the inside of you!
Mark, Chapter 10, tells us about a blind man that came to Jesus. Jesus asked him, "What do you want Me to do?" The blind man said to him, "Lord, that I might receive my sight."
I'm going to put this in a Savelle paraphrase, but essentially Jesus said, "Okay, that seems simple enough—go your way! Your faith has made you whole."
I believe that is what Jesus is asking you today, "What do you want Me to do?" Maybe you would answer, "Lord, I need a major financial breakthrough." Maybe you would answer, "Lord, I need healing in my body." He would respond to you with, Okay, that seems simple enough. Anything else? Anything harder?"
We're talking about God. What looks impossible for you, is not impossible for Him. In fact, I'll take it a step farther, it's easy for Him.
Opening blind eyes, that's not hard for Jesus. Causing the cripple to walk, that's not hard for Jesus. Turning your circumstance around, that's not hard for Jesus!
I'll ask you again, what is it that you are challenged with today, that the devil is saying no way! What is it that you're faced with today that looks impossible to you? What is it that you need to break loose in your life that would make your life better this year?
I declare to you…Go for it! Your faith makes it possible! It's not impossible with God. In fact, as previously stated, it's easy for Him!
When both my daughters, Jerriann and Terri, were just little girls, they believed that their daddy could fix anything. "Fix it, daddy." They would come to me with things that looked impossible to them and they would always hear me say, "Daddy will fix it. Daddy can take care of that. No problem."
Even now that they're grown women, every once in a while they still have something that only daddy can fix. I love it when I'm the only one that can fix it!
My youngest daughter, Terri, had a car accident years ago and took it to the paint and body shop. After the repairs, every time she opened the door it wouldn't close properly. She said, "Daddy, can you fix this?" I said, "That's easy, sure."
I got my tools and worked on it for about 15 minutes. I said, "Check this out." She said, "Daddy, you fixed it!" I said, "Yeah! Daddy can fix it."
That's what I hear my Heavenly Father say every time I'm looking at something impossible. "No problem, son, Daddy can fix it!"
Whatever you are facing, whatever seems impossible, your Heavenly Father can fix it. Your Heavenly Father can change it. He can turn it around!
What's stopping you today from daring to dream big? What's stopping you from daring to believe big? Not God. In fact, He encourages it.
Ephesians 3:20 the Amplified says, "Now to Him who is able to [carry out His purpose and] do superabundantly more than all that we dare ask or think [infinitely beyond our greatest prayers, hopes, or dreams]."
Did you catch that? God dares you to think big, to dream big, to believe big.
What kind of dreams are you dreaming? What kind of goals have you set? They ought to be bigger than the ones you had last year.
My dreams and goals this year are bigger than the ones I had last year. I am passionate about reaching more people, training more pastors, and seeing more souls saved through our outreaches!
Every month partners and friends just like you give financially enabling us to share God's love to people who are hurting and lost.
I invite you this month to be part of the big things God is doing in and through this ministry.
As you give, I want to thank you by sending you my recent teaching message, Go For It – Your Faith Makes It Possible. Don't wait. Don't delay. Get this teaching resource and start building your faith today.
Sow a faith-seed today and activate your faith to see God's power move in your seemingly impossible situation.
I want to encourage you today, whatever looks impossible, whatever your greatest challenge might be, whatever it would take for you to live a better life, then dare to believe that, that is all possible with the God you serve—nothing is too hard for him.
If Jesus were standing here in the flesh, He would simply say to you, "What would you like for me to do?" And if you tell Him about the most impossible looking thing in your life, He would boldly say, "Okay, that's simple enough, go your way—your faith can make it happen!"
I'm praying for you. Thank you for believing in this ministry.
In Him,
Jerry Savelle
P.S. God created you to think big. God created you to believe big. God created you to live big. But you're the one that has to choose the life He created you to live. So go for it—your faith can make it happen! Nothing is impossible with God and nothing is impossible to those who believe! I look forward to hearing from you.