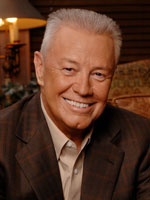 As you sow into this ministry this month, I will send you this needed resource, Refuse To Accept Defeat. In this timely message, I go into depth about how and why accepting defeat is not an option for you. as my thank you to you. Click here to give>
---
What should you do when the miracle you're believing for still hasn't happened? How do you respond when the breakthrough hasn't shown up?
I intimately know what it's like to trust God, but when in the natural, it appears like it's a hopeless cause. Every faith-project I've ever believed for has forced me to trust God beyond what was comfortable in the natural. Often, the circumstances seemed impossible. It looked as if the time had run out, the doors wouldn't open, or others involved wouldn't cooperate.
I've discovered over the past 50 years that if I'm going to receive the miracles and promises of God in my life, I'm going to have to refuse to quit and refuse to accept defeat. Regardless of how impossible it may look in the natural, if I keep my trust in God, He will fulfill every Word He has spoken.
Before surrendering to Christ, I was a quitter! Anytime things got tough or didn't go my way, I would quit. Thank God He has transformed me, and I'm not that person anymore!
What are you going to do in those moments when doubt comes knocking at your door and you're tempted to give up? You can respond in faith the same way God's people did in 2 Chronicles 20:12 (AMP) saying, "For we are powerless against this great multitude which is coming against us. We do not know what to do, but our eyes are on You."
When you don't understand what's happening and can't see a way out of your troubles, refuse to accept defeat! When it seems like the pressure is too great and it's too late for a breakthrough, refuse to accept defeat!
If you continue reading Second Chronicles chapter twenty, you see that the Lord speaks saying, "Do not be afraid! Don't be discouraged by this mighty army, for the battle is not yours, but God's." Then King Jehoshaphat encourages the people of God, "Listen to me, all you people of Judah and Jerusalem! Believe in the Lord your God, and you will be able to stand firm. Believe in his prophets, and you will succeed."
Here's the proper response when the circumstances seem hopeless – don't give up, stand firm and keep your eyes on God. When you do this, the Holy Ghost will show up and God will give you a rhema Word. He will speak into your life and into your circumstance. When it looks impossible - keep walking in faith, keep trusting God, keep speaking His Word! In the words of the Apostle Paul, "…and having done all to stand, stand therefore…" (Ephesians 6:13-14). In other words, "Don't ever give up and refuse to accept defeat!"
God has provided all that you need to live a life of victory. Living in defeat is a curse, and you are redeemed from the curse! If you will stand firm and keep believing in the Lord and His prophets, you will succeed!
For me personally, I don't ever think of defeat as an option anymore. I believe that somehow, and in some way, God is going to see me through every adversity that comes my way. One of my favorite verses is 2 Corinthians 2:14 which declares, "Now thanks be unto God, which always causes us to triumph in Christ…" Not win a few, lose a few! No, ALWAYS!
So, if this is true, and obviously it is because it's God's Word, then why would you ever be willing to accept defeat?
When trusting God for the miraculous, you will have opportunities to be tempted to accept defeat. Thoughts will come to you that your victory isn't worth fighting for. Don't entertain those thoughts of defeat. You must take captive every thought and make it obedient to Christ (2 Corinthians 10:5).
In other words, if it doesn't line up with what God says, then cast it down. Don't allow those negative thoughts into your thought-life. They're simply lies of the devil that he's trying to get you to believe, and thereby, get you to accept defeat.
But don't ever forget this – defeat in your life is never inevitable. It's never over until God says it's over, and God says it's over when you win!
I'm greatly encouraged by the Apostle Paul's example of overcoming impossible circumstances. He wrote to the believers in Corinth testifying, "We don't want you to be in the dark, friends, about how hard it was when all this came down on us in Asia province. It was so bad we didn't think we were going to make it. We felt like we had been sent to death row, that it was all over for us. As it turned out, it was the best thing that could have happened. Instead of trusting in our own strength or wits to get us out, we were forced to trust God totally... and He did it, rescued us from certain doom. And He'll do it again, rescuing us as many times as we need rescuing" (2 Corinthians 1:8-10 Message).
In other words, this situation was beyond his ability (in the natural) to cope with – it was impossible to handle in his own strength. But he refused to accept defeat. He didn't give up; he didn't quit. Instead, he continued to trust God and continued to fight the good fight of faith, and God came through for him.
I'm declaring to you today - God will come through for you also!
If you look back on your life, you can remember all the times God came through for you when it looked as though defeat was inevitable. He helped you in the past, and He'll continue to help you in the future. You can overcome everything that the enemy throws at you!
Do you remember what Romans 8:31 says, "If God be for us, who can be against us?" With God on your side, the victory is already yours.
You can live with confidence knowing God is able to handle anything that comes your way. Keep trusting Him and refuse to accept defeat! God only has plans of victory for you.
When you're facing a hardship, it's vitally important to be selective of the voices you listen to. Don't allow anyone to talk you into accepting defeat! You need people in your life that strengthen your faith, not add to the discouragement. I'm so thankful that God has called me to be a voice of encouragement to you.
There is so much more I'd like to teach you on this topic. That's why I want to send you this month's teaching resource, Refuse To Accept Defeat. In this timely message, I go into depth about how and why accepting defeat is not an option for you.
As you sow into this ministry this month, I will send you this needed resource as my thank you to you. You can give securely online at jerrysavelle.org, calling toll-free 1-866-567-4872, or by using the enclosed reply and envelope.
Your generous giving enables me to reach people who are hurting and lost around the world. It's because of your faithful support that lives are forever changed and God's Word is boldly proclaimed.
Thank you for believing in this ministry and putting action to your faith!
I'm trusting and believing God with you. Let's keep our eyes on Him as we expect to see marvels, wonders, and extraordinary manifestations of His goodness in our lives.
In Him,
Jerry Savelle
P.S. Always be aware that Satan comes to steal the Truth (the Word, Mark 4:15), but you must be determined to not allow him to do it. You must continue to hold fast to God's Word, no matter what! And I'm here to STAND with you. I encourage you get this month's teaching resource and allow me to add my faith with yours for God's victory. I hope to hear from you soon.